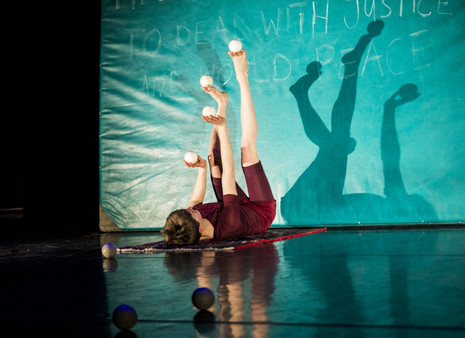 Shift ist eine vielschichtige Performance, die das Publikum in ein Universum mitnimmt, das poetisch und surreal und dennoch alltäglich scheint. Es ist die Geschichte einer Frau, die nach und nach Möglichkeiten und Freuden entdeckt, die jenseits von ihren eigenen und gesellschaftlichen Erwartungen liegen.
Auf sehr visueller Ebene wird das Publikum herausgefordert, die eigene Wahrnehmung und Kategorien zu hinterfragen.
Shift is a multidisciplinary circus performance that aims to take the audience on a journey being poetic and surreal but close to every day life. It tells the story of a girl that seems to live a normal life but that discovers more and more the pleasure of not fulfilling her own and society's expectations.
On a very visual level it deals with categories and norms inviting the audience to question their own perception.
Für die Kreation von shift arbeitete Roxana zusammen mit Pia Meuthen, die ihre Ausbildung an der Hogeschool voor de Kunsten Amsterdam und Fontys Dance-Academy Tilburg absolvierte. Sie ist seit 1998 als freiberufliche Choreografin tätig und arbeitet unter anderem in ihrer Companie Panama Pictures mit der Kombination von Tanz, Theater und Circus.
Circustechnik: Trapezartistik, Fußjonglage
Performer: Roxana Küwen
Dauer: 25 min.
Konzept: Roxana Küwen
Künstlerische Assistenz: Pia Meuthen
Sound: Thomas Gäbert / Roxana Küwen
Dekor: Jan Hots / Roxana Küwen
In Kooperation mit: L'Avventura (NL), Dans Brabant (NL), Espace Catastrophe (BE), Circomedia - Center for Contemporary Circus Bristol (UK)
For the creation of shift Roxana worked together with Pia Meuthen, who followed the dance education at the Hogeschool voor de Kunsten Amsterdam and Fontys Dance-Academy Tilburg. Pia has been active as a freelance choreographer since 1998 and works amongst others in her company Panama Pictures with the combination of dance, theater and circus.
circus technique: trapeze, foot juggling

performer: Roxana Küwen
duration: 25 min.
concept: Roxana Küwen
artistic assistance: Pia Meuthen
sound: Thomas Gäbert / Roxana Küwen
scenography: Jan Hots / Roxana Küwen
in cooperation with: L'Avventura (NL), Dans Brabant (NL), Espace Catastrophe (BE), Circomedia - Center for Contemporary Circus Bristol (UK)