Anni Küpper (CHIMERA)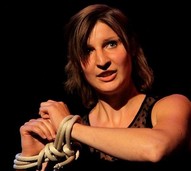 Anni Küpper, geb. 1988 in Bonn, ist Jongleurin und Performerin. Während ihrer Ausbildung an der Academy for Circus and Performane Art (NL) entwickelte sie einen innovativen Jonglagestil, der international Anerkennung in der Szene findet.
Ihre Solo-Acts wurden eingeladen auf Gala Shows innerhalb Europas sowie Japan, Israel und den USA, und waren zu sehen im Rahmen von Wintervarieté Casacade (Utrecht, NL) und VarietéGesellschaftabend (Lichtburg, Essen). Annis Stärke ist eine authentische Bühnenpräsenz und durch konzeptuelle Ideen geprägte Performances.
Anni Küpper is a juggler and performer. born 1988 in Bonn (D). At the Academy for Circus and Performance Art (NL), where she graduated in 2013 with a Bachelor, Anni developed an innovative juggling style, that finds international recognition.
Her solo acts got invited to Festivals around Europe as well as Japan, Israel and the USA and were showcased in the context of Wintercircus Cascade (Utrecht, NL) and VarietéGesellschaftsabend (Lichtburg, Essen, D). Her strength are an authentic stage presence and subtle performances, which are based on conceptual ideas.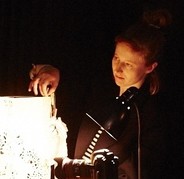 Annika Demmer: Die Illustratorin erhielt 2014 ihr Diplom an der Ecosign in Köln. In den letzten Jahren entwickelte sie ein eigenes Konzept, welches Illustration in eine Form darstellender Kunst verwandelt. In verschiedenen Projekten entstanden z.B. lesungsbegleitende Illustrationen oder sich mit dem Stadtraum verbindende Projektionen. Zusammen mit einer Fotokünstlerin und Lichtmalern arbeitet sie mit ihren Projektionen an einem interaktiven Konzept für Straßentheater. Ihr Fokus liegt aber vor allem auf der Zusammenarbeit mit Künstlern des Neuen Zirkus.
The illustrator Annika Demmer received her diploma at Ecosign Köln in 2014. During the last years she developed her own concept, which transforms illustration into a form of performing art. From different projects originated for example illustrated readings as well as sitespecific projections that connect with their surroundings. Together with a photo artist and a light designer she works furthermore on an interactive concept for street theater. However, her main focus lays on collaborating with new circus artists.
Roxana Küwen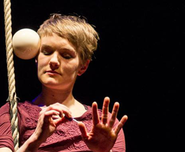 Roxana Küwen, geb.1989 in Oldenburg, absolvierte 2013 an der Academy for Circus and Performance Art in Tiburg, Niederlande. Seit ihrem zweiten Studienjahr ist sie auf statisches Trapez und Fußjonglage spezialisiert. Ihre Acts waren unter anderem hier zu sehen: Circus Constanze Busch, GOP Varieté-Theater, Tollhaus Karlsruhe, FreiFeld Festival, KORZO Theater Den Haag, Cirque Starlight (CH) sowie in Galas und Festivals in Deutschland, Benelux und Frankreich.

Roxana Küwen, born in 1989 in Northern Germany, graduated in 2013 at Fontys Academy for Circus and Performance Art in Tilburg, Netherlands. In her second study year she specialized in static trapeze and foot juggling. With her acts she performed amongst others in Circus Constanze Busch and GOP Varieté-Theater as well as in galas and circus festivals in Germany, Holland, Belgium and France.
Melanie Hagedorn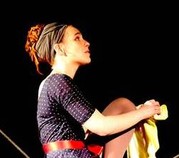 Auch Melanie Hagedorn machte im Sommer 2013 ihren Abschluss an der Academy for Circus and Performance Art in Tilburg. "Hang Loose" entstand in Kooperation mit L'Avventura in Tilburg. Sowohl mit diesem Stück als auch mit ihrer Soloperformance trat Melanie auf zahlreichen Festivals und in Gala-Shows auf. Ihr Solo "Seiltanz" war unter anderem zu sehen in der GOP-Show "Talents" in Essen. Desweiteren arbeitet Melanie zusammen mit der Tanzchoreographin Katja Heitmann, deren Stück "Eggs are good for your hair" auf Melanies Schlappseilartistik zugeschnitten ist.
Also Melanie Hagedorn revceived her Bachelor diploma 2013 from the Academy for Circus and Performance Art in Tilburg (NL). "hang loose" was produced in cooperation with L'Avventura in Tilburg. With this long piece as well as with her short solo act "Seiltanz" Melanie performed at various Festivals and Gala shows. Amongst others "Seiltanz" was showcased at the GOP-Theater Essen for the show "Talents". Furthermore Melanie collaborates with the dance choreographer Katja Heitmann, whose piece "Eggs are good for your hair" was written especially to match Melanie's artistry on the slackrope.